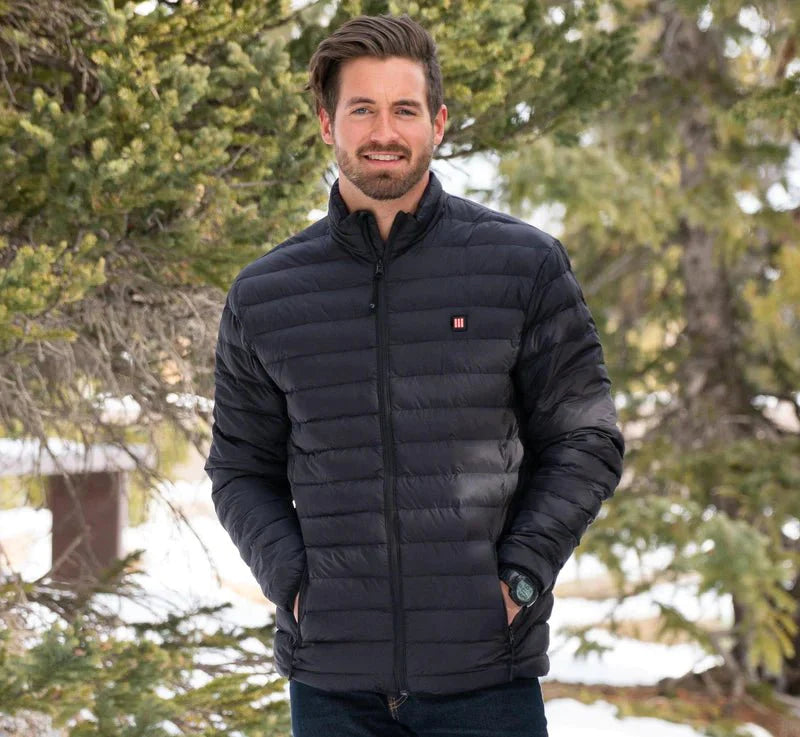 HEATED JACKETS
DISCOVER THE VERSATILE HEATED JACKET
Whether you are a man or a woman, our heated jackets are a must for Winter. Keep the heat in style with our heated hooded jackets. Ideal for your outdoor activities, your trips to bike or your outings fishing , our unisex models are suitable for everyone.

THE INTEGRATED RESISTOR TECHNOLOGY IN THE HEATED JACKETS
Us heated jackets discreetly integrate resistors into their lining for gentle heat and enveloping. These resistances are found at of the, to shoulders, to the neck, bust and lumbar, effectively protecting you from cold. Choose from several intensities of heating in adjusting the temperature of your jacket, from 25°C to 65°C, for optimal comfort in all circumstances.
HEATED JACKETS FOR MOTORCYCLE ENTHUSIASTS
If you are an amateur or professional in moto, us heated jackets are an essential asset. The integrated resistances provide enveloping warmth for the upper body. With reinforcements, zipped pockets and zippers doubled, our jackets for bikers are designed specifically to meet the requirements of the driving in winter. Protections on the shoulders, elbows and back ensure your safety in the event of a fall, all with a touch of modern style.
RECHARGEABLE BATTERIES FOR HEATED JACKETS
All our heated jackets Battery operated, providing several hours of heat. Recharge them easily via USB or a external battery for heated jacket (5V 2A) for all day use. You can adapt the intensity of the resistances according to your needs and the weather, and benefit from a heat evenly distributed over the upper body in a few minutes. The resistances, completely invisible to the naked eye, guarantee maximum comfort throughout the Winter.
NEW GENERATION OF HEATED JACKETS
Our collection: heated jacket, revolutionizes your winter ! Lightweight, comfortable And raincoats, they allow you to enjoy nature, to move around moto or at bike while staying warm. With discrete resistors and the ability to turn your device on or off waterproof heated jacket with a simple gesture, they let you go about your business in complete peace of mind. Some heated jackets are machine washable, and you can adjust their style with removable hoods or remove the resistances according to the seasons. Available in a range of colors, sober or bright, or even in camouflage print for your outdoor adventures. winter.


WOMEN'S HEATED JACKET

Ideal for daring women wanting to stay warm Winter in a pleasant women's heated jacket. In our collection »heated jackets", you will also find our heated fleece jacket as well as our emblematic waterproof heated jacket ! The most chosen color is the red heated jacket.
MEN'S HEATED JACKET

Women are not the only ones to enjoy the warmth provided by our men's heated jackets. Gentlemen will be entitled to it too! Men are more and more seduced by our men's heated jacket in all kinds. To spend a warm winter and hibernate until the warmer weather returns, there are all good reasons to put on a men's heated jacket. The most chosen color among men is the black heated jacket.
If you want to discover a new collection, we advise you to take a look at our collection of heated down jackets.